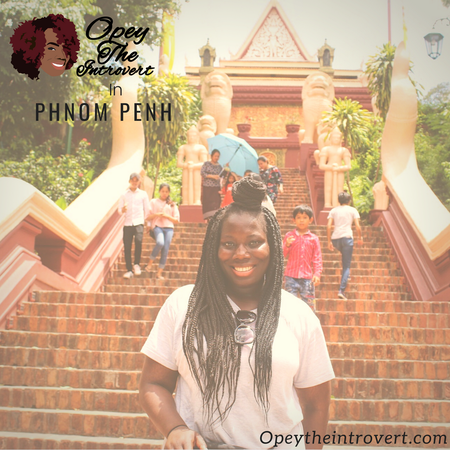 Monday 18th June
Unfortunately our flight was delayed so we had to rearrange a few things that we decided to do. All hope was not lost however and it worked out for the best as this day happened to be the Queen Mother's birthday which was also a public holiday. Some buildings and museums actually had different closing times due to this. We decided to chill in the hotel for a while before walking to the Sugar Palm restaurant which was five minutes away.I ordered the Fisk amok , a Cambodian dish, with rice and I must say that it was pretty good save for the overpowering coconut taste which could have been offset if spices were present. All in all it has been a good first day and I look forward to checking out more of what Phnom Penh has to offer tomorrow!
Tuesday 19th June
Today was a deep day but very insightful. Our first stop was the silver pagoda which was indeed a sight to behold and gave a glimpse into religion and also royalty in Cambodia. There are a number of smaller temples surrounding the silver pagoda- it's in one big complex which also features the royal palace.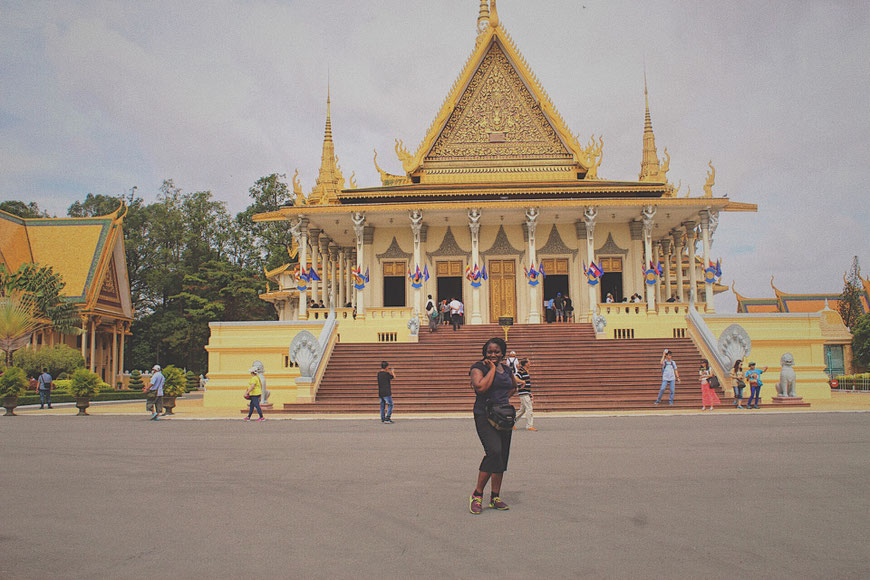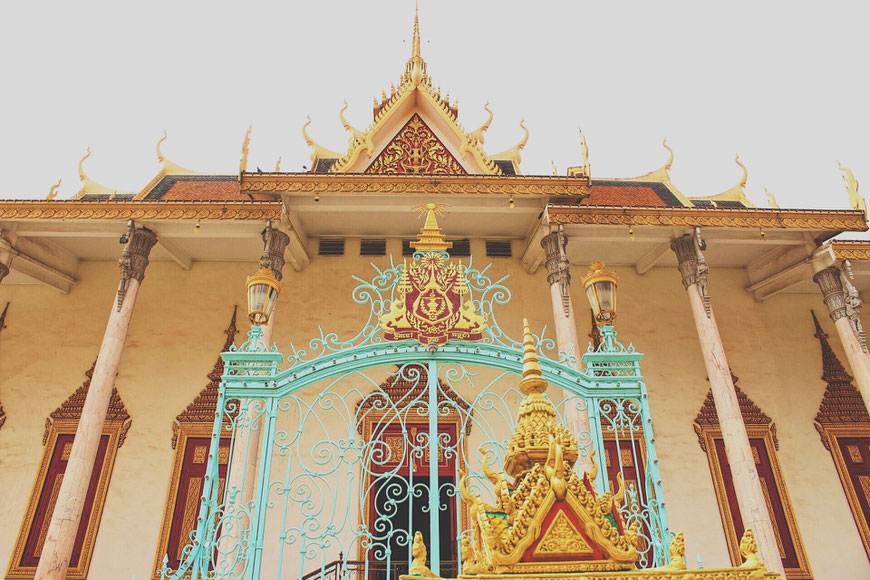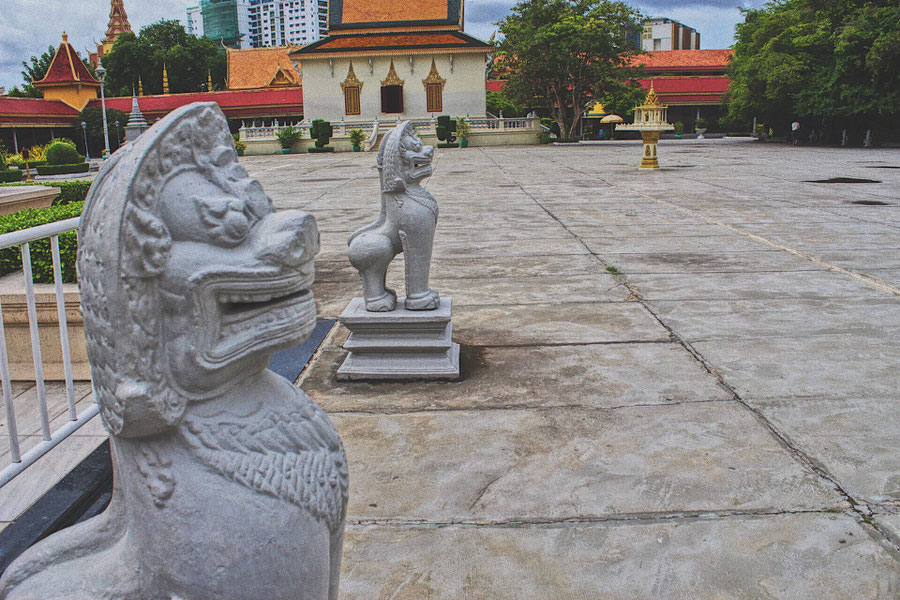 Mythical statues opposite the silver pagoda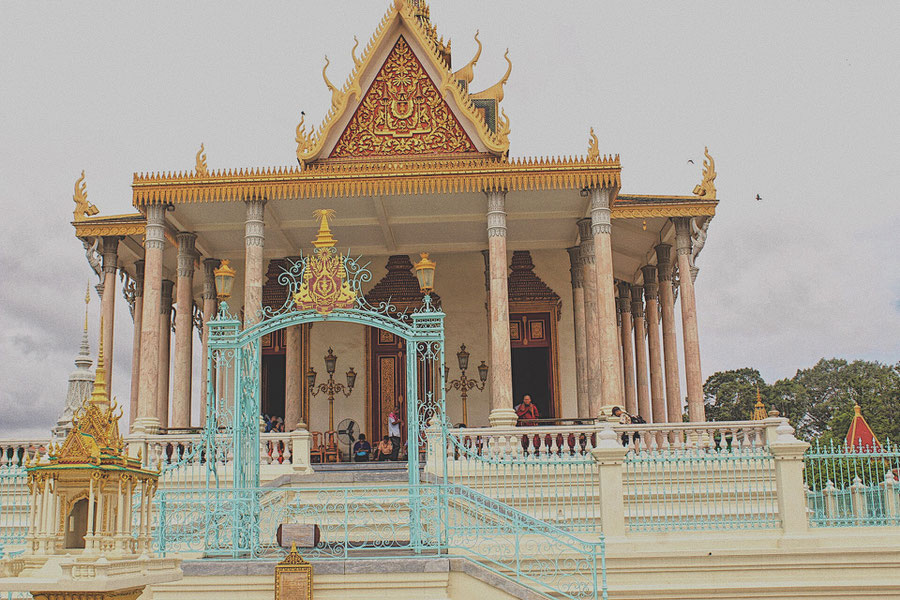 Outside the Silver Pagoda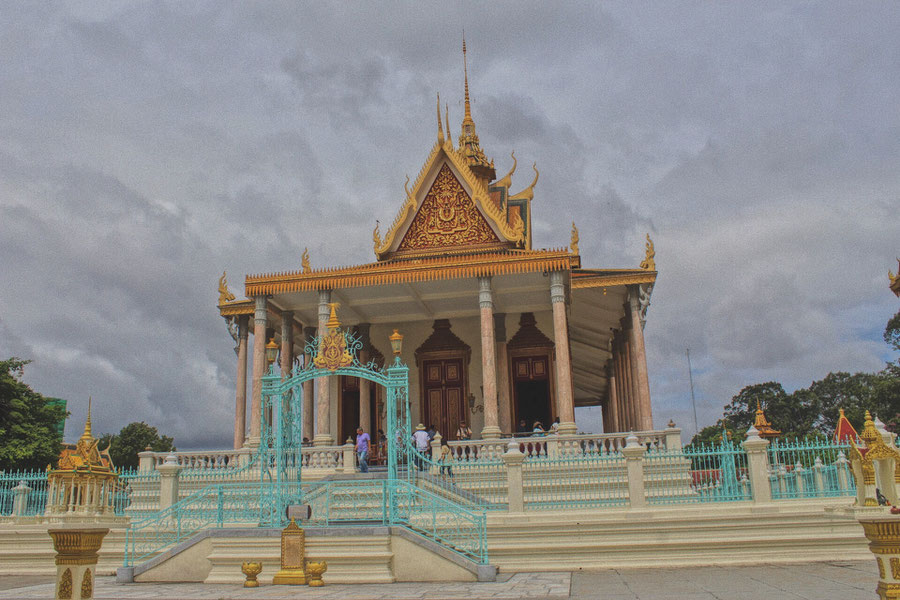 The Silver Pagoda. Shoes must be taken off at the entrance before going in.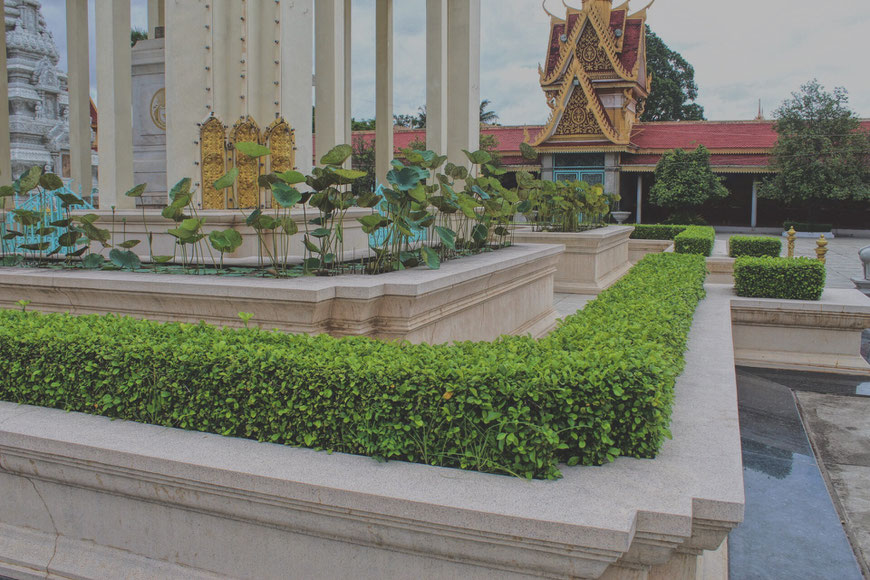 Opposite the Silver Pagoda
Our next stop was the Cheung Ek Killing fields. I'd read up on it before and I knew that it would be emotional but nothing quite prepared me for just how emotional it would be. The audio guide was super useful and really explained in great detail what happened there. It was harrowing to see so many skulls and also literally be surrounded by mass graves. It is a visit that will stick with me for a long time and really reminds me of the depravity of humanity when left to wander and fulfill its evil desires.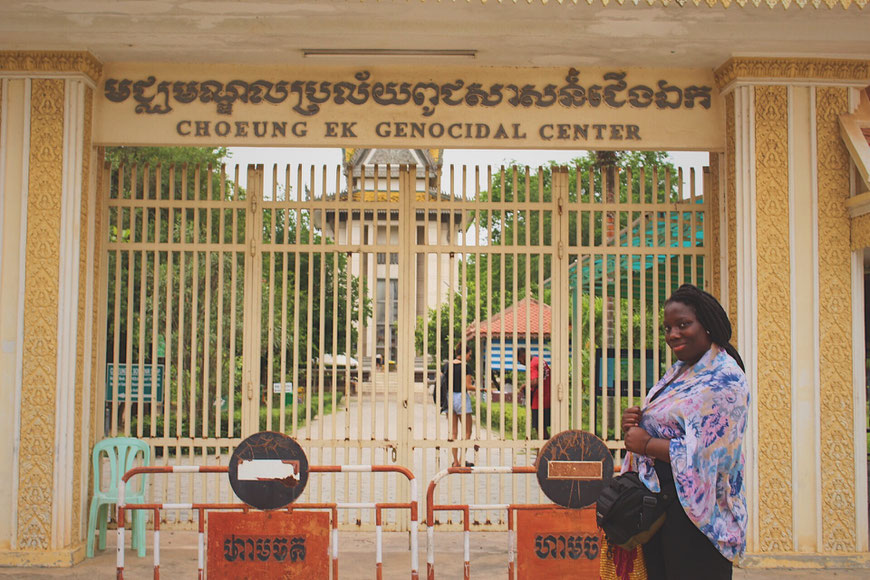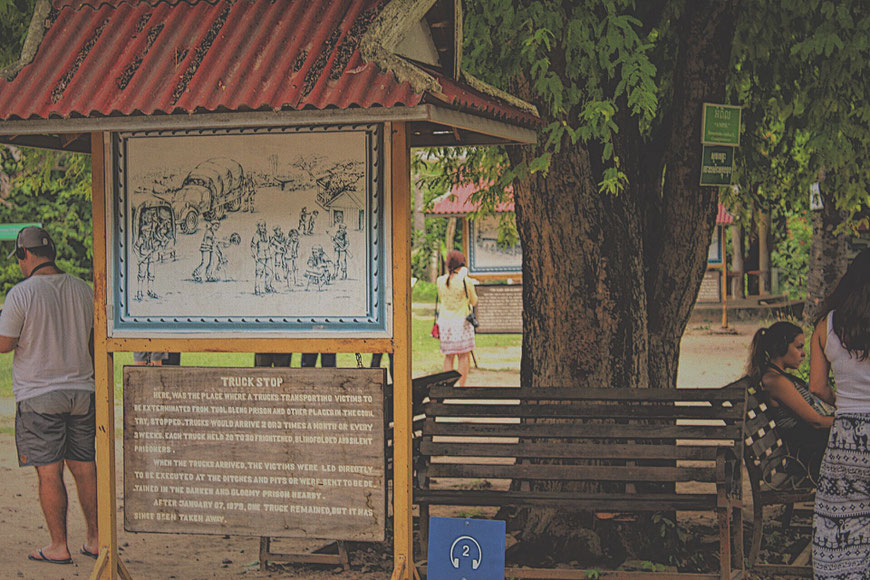 The beginning of the journey at Choeung Ek Killing Fields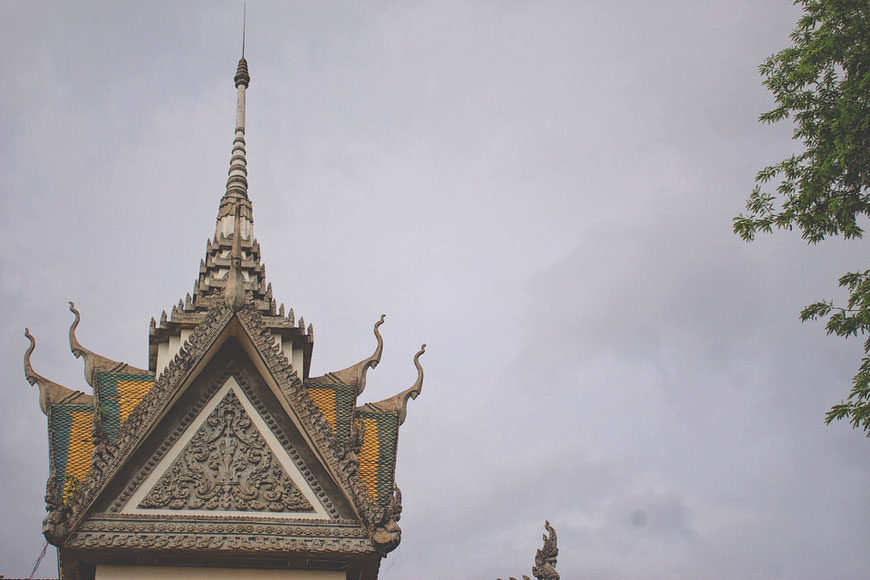 Admiring the religious and cultural architecture at the top of the memorial building at the Choeung Ek Killing fields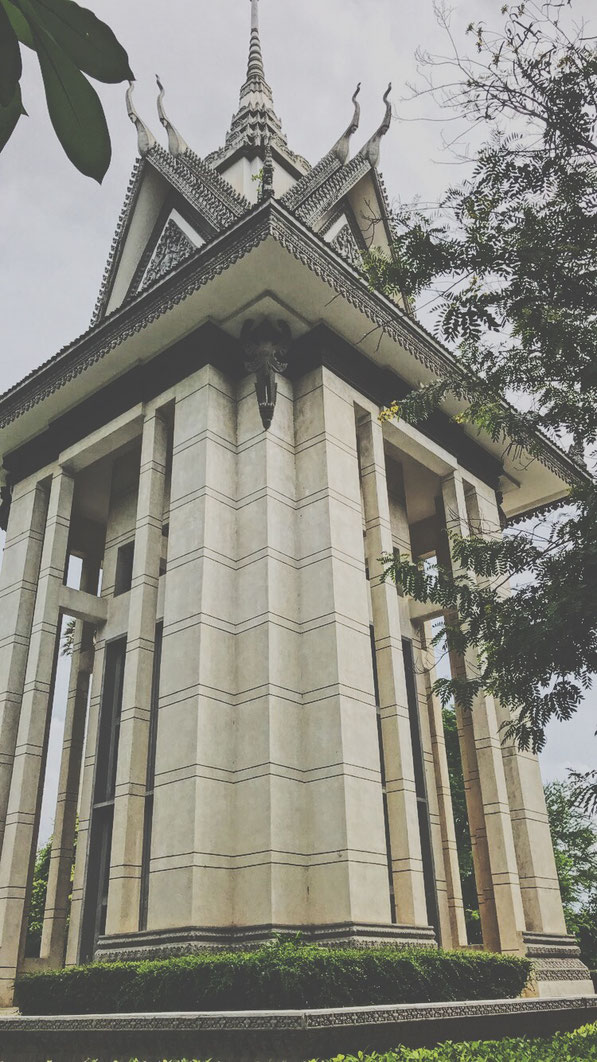 The memorial building which houses a number of skulls and the names of those who were killed.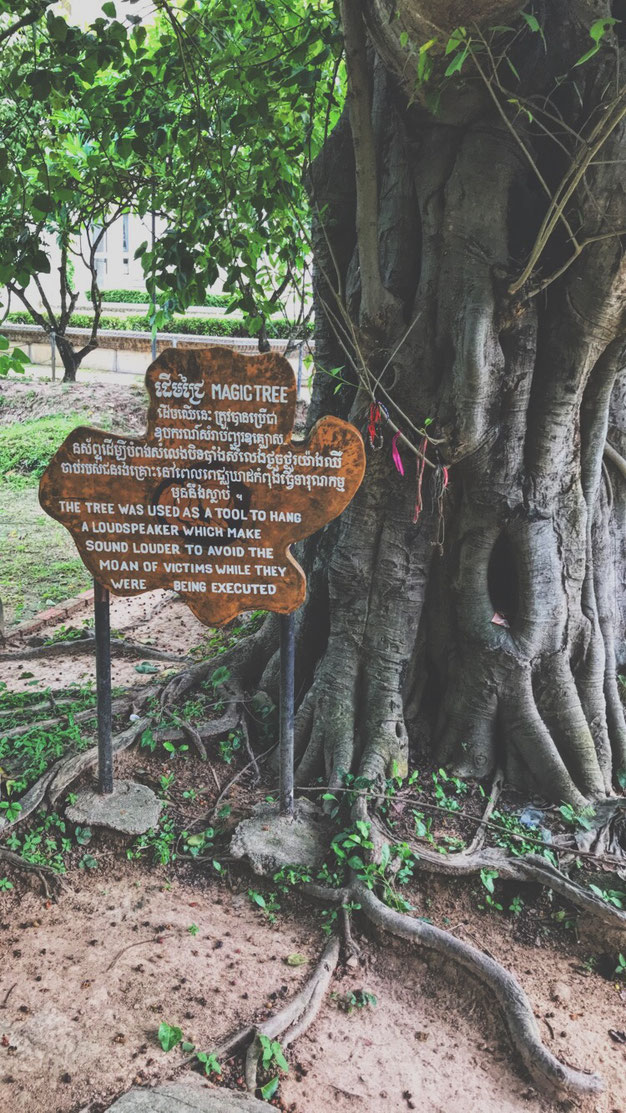 Just some of the horrors that took place in the field.
Our final stop was the Tuol Sleng Genocide museum which was previously a prisoners camp that was originally a school. The only thing is that those who were detained were not really prisoners but anyone who the regime felt opposed them. Evidence of the horror was everywhere and once again the audio guide was such a useful companion to guide you through the buildings. I must admit that I knew nothing about Cambodian History beforehand but after visiting these two sites I really must commend what I've seen so far of the country for really pushing through such horrors. I know that change cannot happen overnight but I must say that considering that such a terrible regime was around less than fifty years ago, Cambodia has done pretty well in attempting to overcome and advance. 
It also throws into smithereens this idea that people have that those who share the same nationality/ethnicity as you cannot do harm towards you as the Ruler of Cambodia during this regime treated his people terribly. He literally killed anyone and everyone he saw fit to kill and this also included those such as doctors, engineers, artists and so on. Can you imagine a country that has been devoid of such? Who takes care of individuals when they're unwell? What happens to the arts? Cambodia had to start from ground zero, for want of a better word and build themselves up and they continue to do so.  It made me realise (again) that evil can occur anywhere and that one should not be too comfortable because it's not at our doorstep.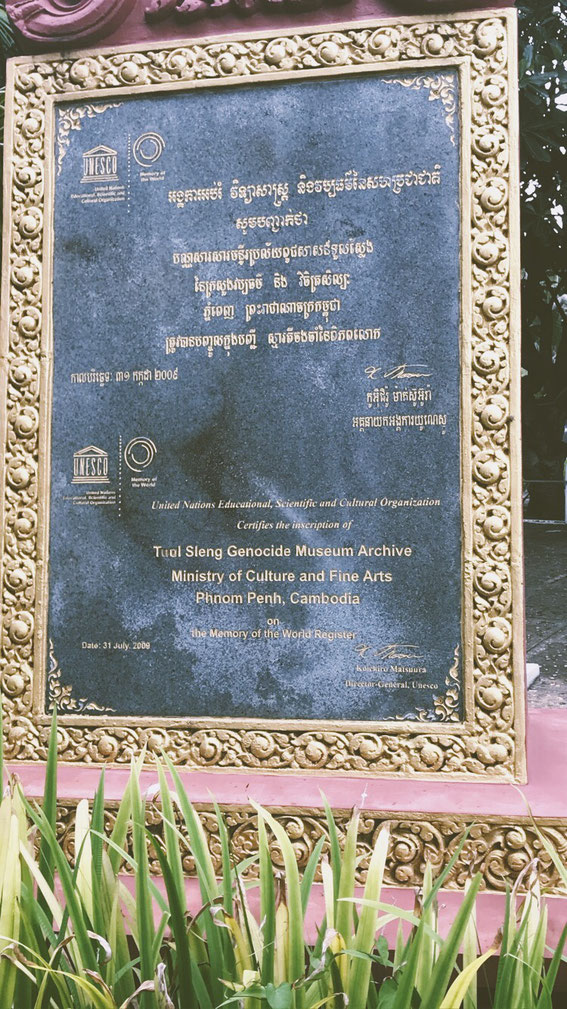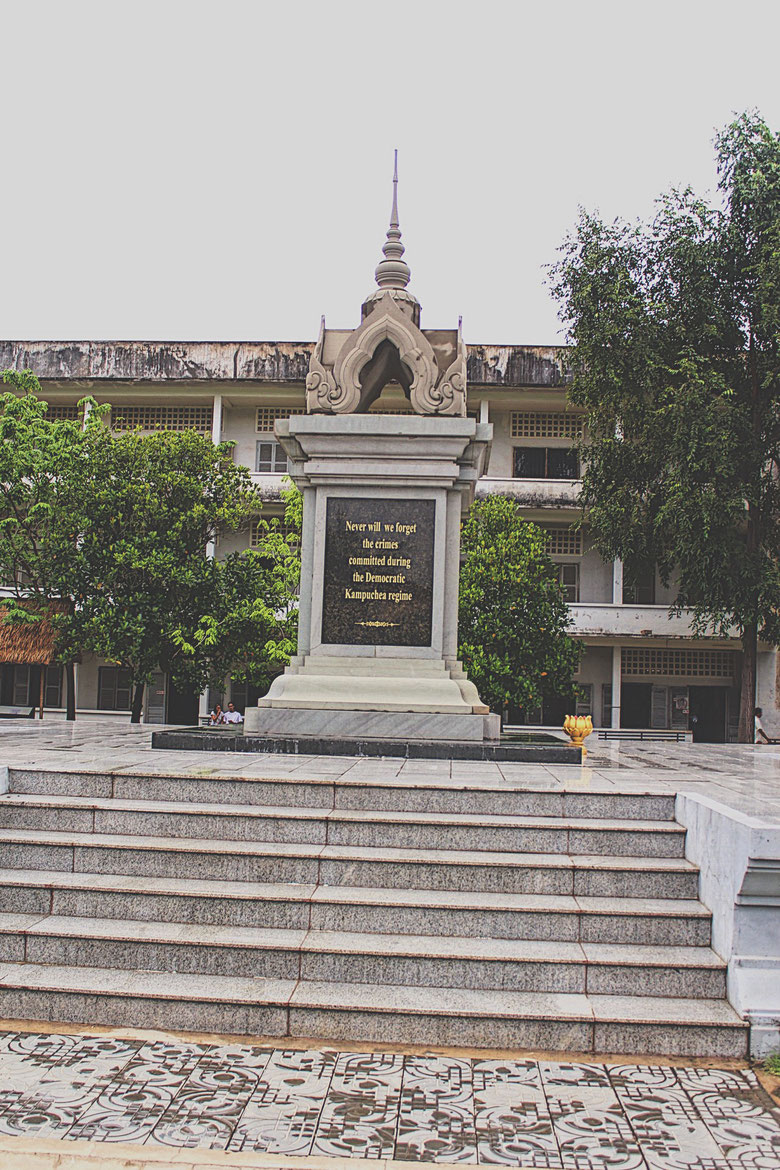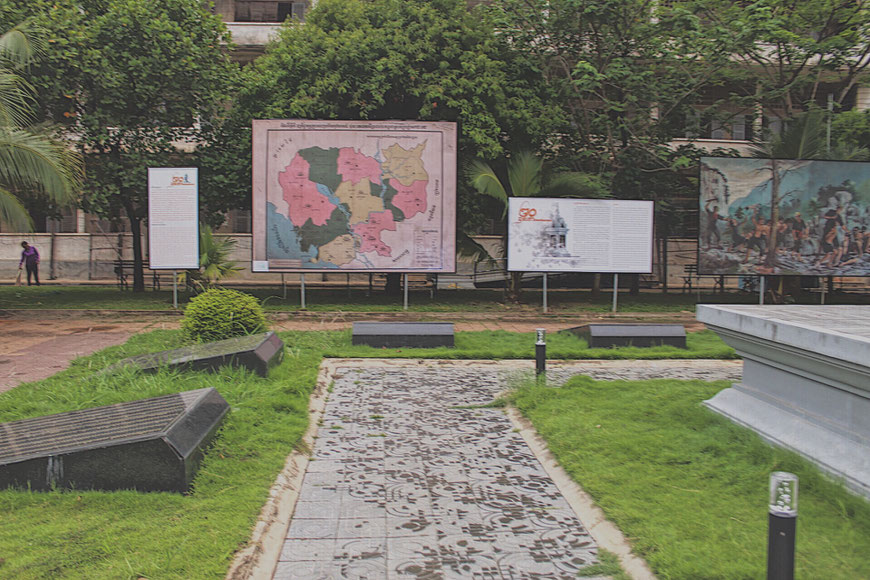 The names of those who were killed written around the memorial stand.
Wednesday 20th June
Today we went to the National Museum of Cambodia which turned out to be quite interesting. There are a number of artefacts which highlight the rich history that Cambodia has. There are also a large number of religious artefacts too due to the religious nature of the nation.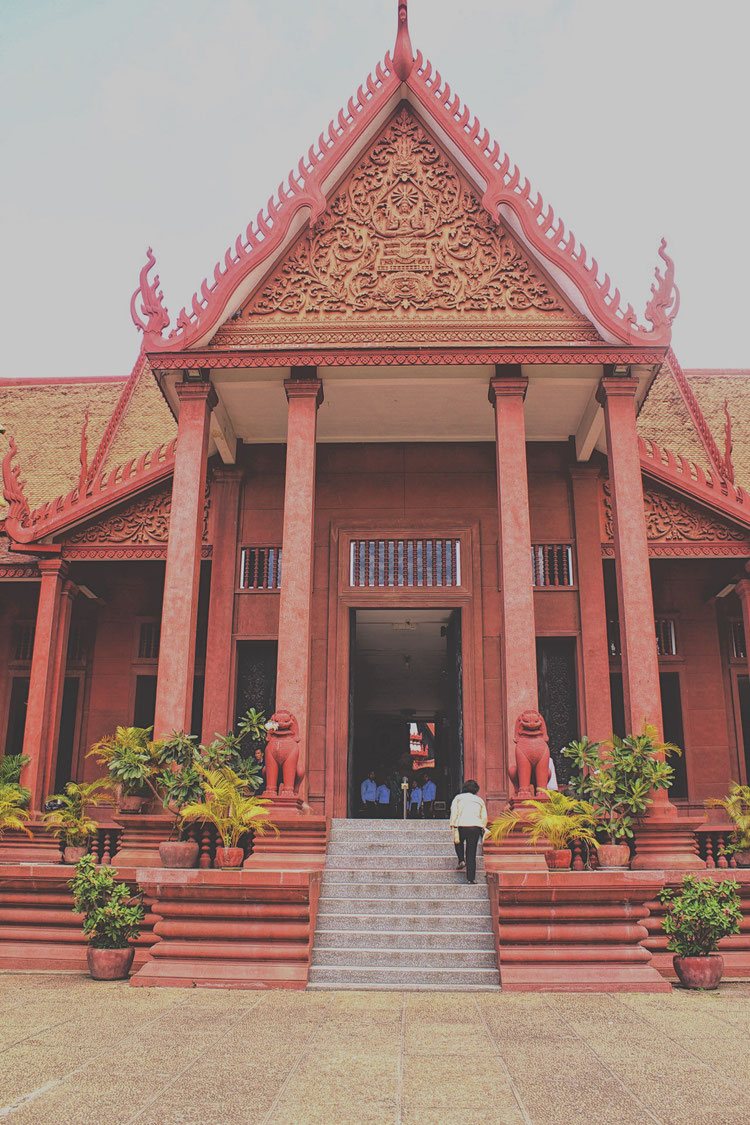 Outside the National Museum of Cambodia. I just love the architecture.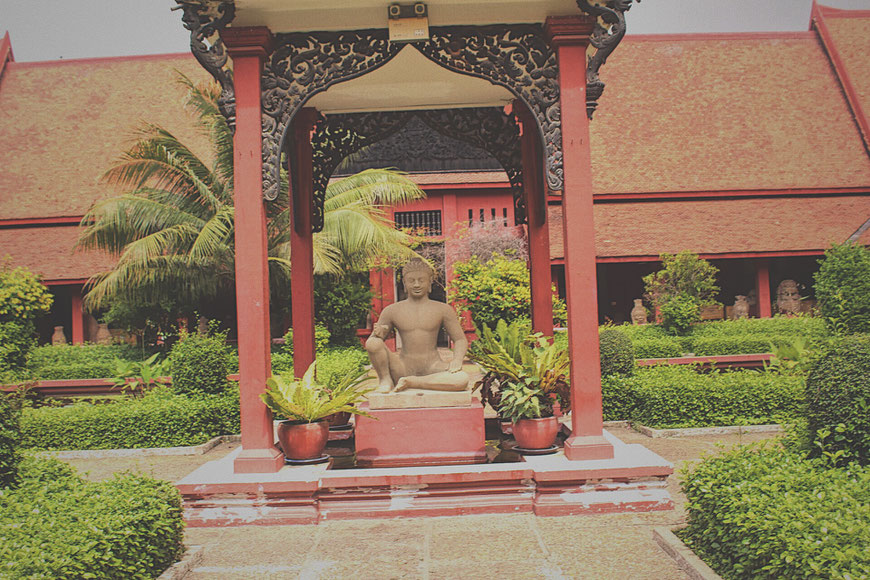 The Central Courtyard in the Museum
The next stop was Wat Phnom which turned out to be good and I liked it because they have managed to preserve the religious integrity as it is still very much a practicing temple. Out of respect I chose not to enter . The walk up the hill is not too steep and once at the top the only thing there is the temple. There seems to be plans to open an arts and crafts centre which was very much under construction but watch out for when it will open.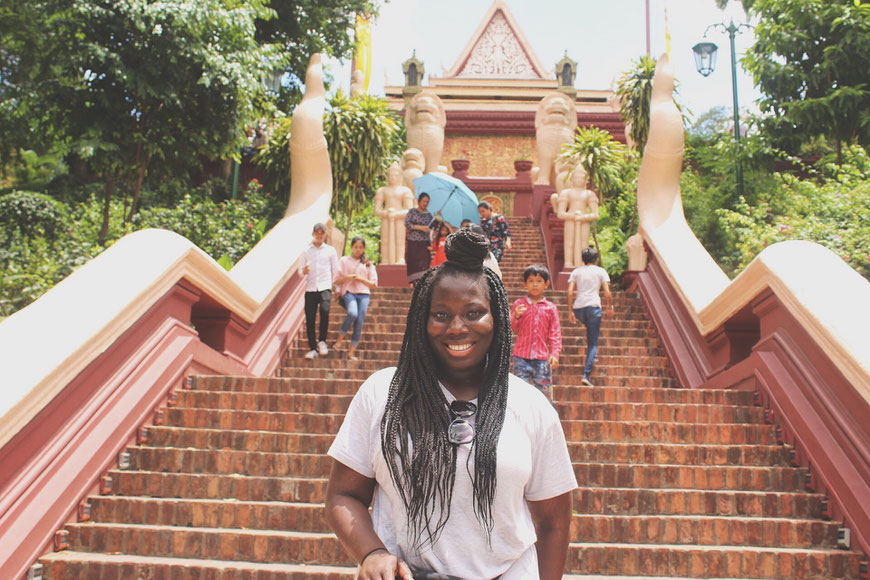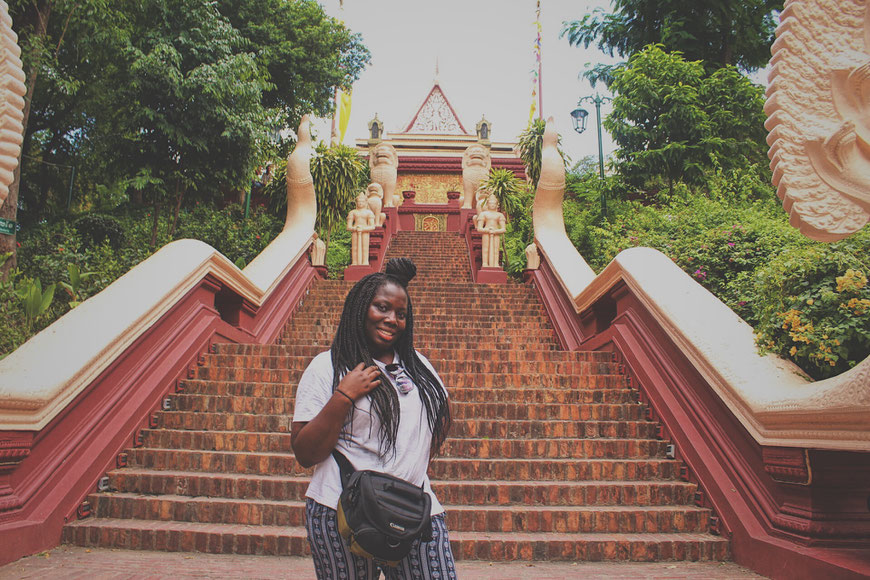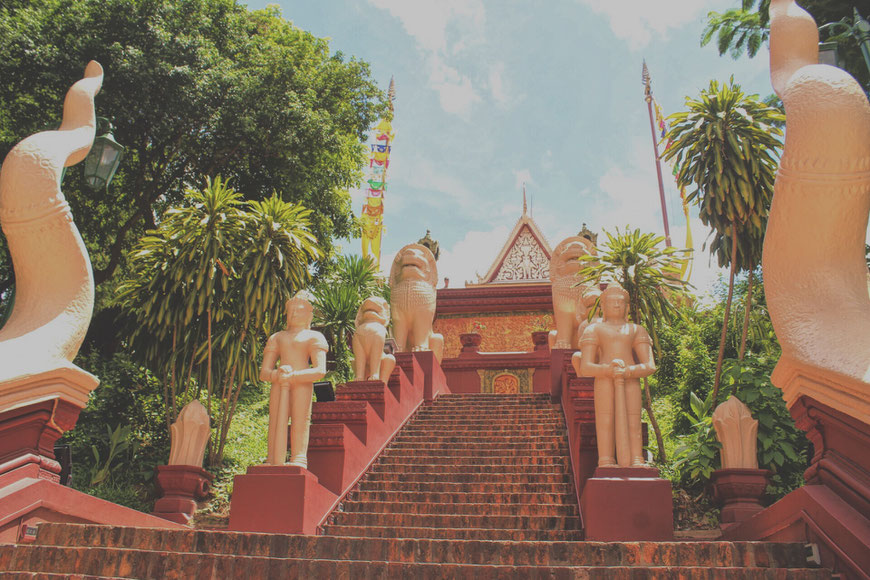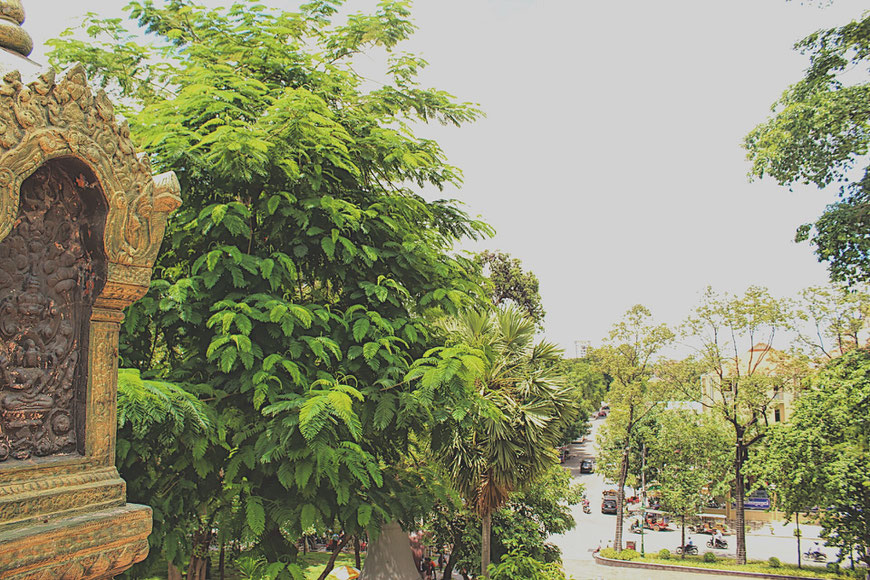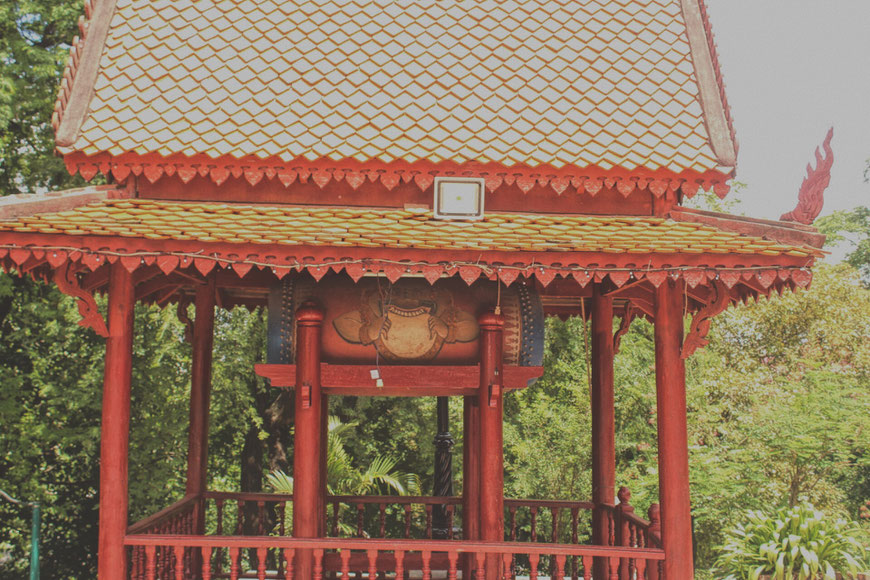 The last stop was the central market where we got our souvenirs and checked out what the market was like. There really is almost everything there from technology to clothes, jewellery, make up and much more. Prices are not too bad either. Don't be afraid to haggle but also be fair when doing so.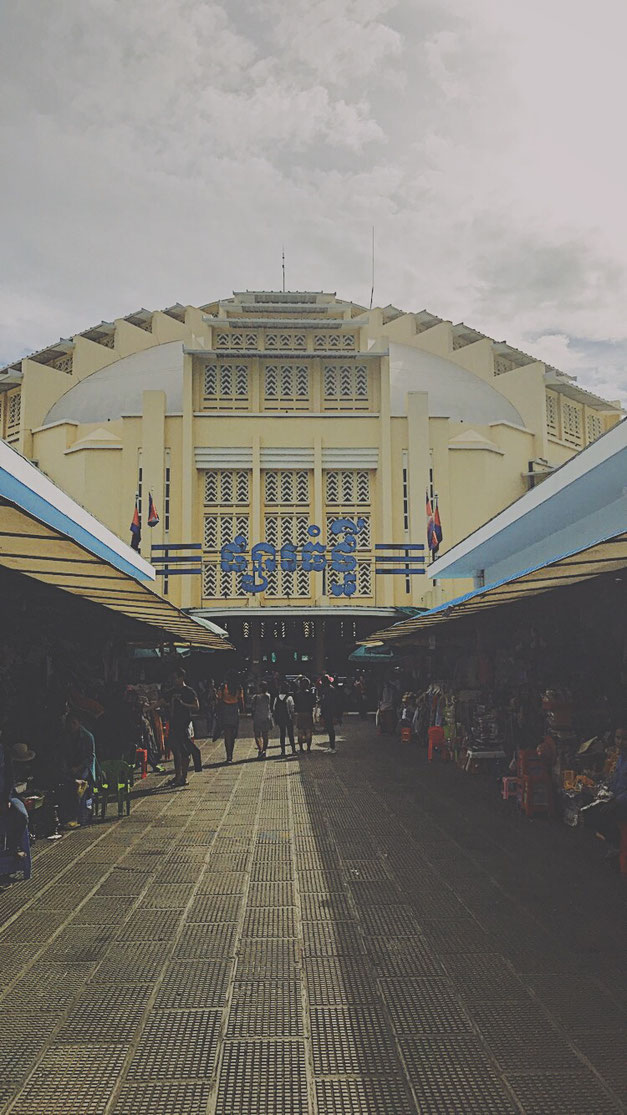 Outside the Central Market
In the evening we opted for the Cambodia Living Arts show which was at the national museum and it was a lovely show. I really got to see and experience Cambodian culture from the music to dance and also folklore. It made for a very nice last night in Phnom Penh.
In conclusion, I really enjoyed my time in Phnom Penh and I would definitely go back in a heartbeat
P.S. Next time I will be covering my time in Siem Reap so keep your eyes peeled for that!