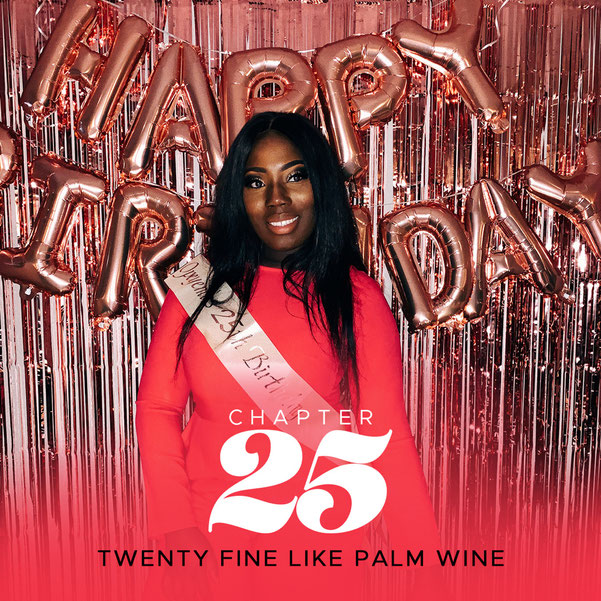 On December 1st 2019 I turned 25 (woo)! I had a great time and did quite a few activities. As is always the tradition on my website, I do birthday blogs (21,23,24,) because, why not? 25 is no exception :D
Birthday celebrations began on Friday 29th November and I went to Afrobeats Karaoke with a few friends. I had a lovely time though I did find it nerve-racking to be singing/karaoking in front of strangers lol. Next time I'll just get a private booth and sing to my hearts content like I did for my 24th. Still, it was a good experience and hopefully in the future, if it hasn't been done already, afrobeats songs can be added to karaoke machines.
Birthday plans.First stop Afrobeats Karaoke.
On my actual birthday I went to Prezzos Marble Arch. My friend Chi Chi had used the place for her 25th earlier on in the year and I really liked the space. Plus their food isn't too bad either but I'll be real I went there more for the semi private space which is free by the way.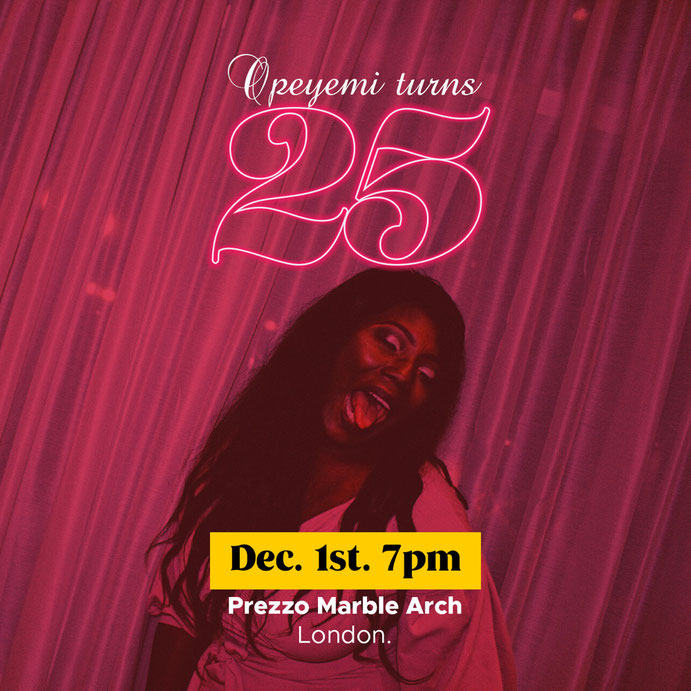 I decided that I wanted to decorate the place because hey, you only turn 25 once right? Amazon and Ebay were great and I got my decorations at a really good price.The theme was rose gold and I originally planned to also have the 25 balloon also in that colour but they had run out. It was probably for the best anyway as it would've been over the top. Maybe.
If I'm being completely honest I wasn't really too keen on doing a birthday dinner because they always tend to be the same and can be repetitive. I decided to spice mine up a bit and had a 'How well do you know Opeyemi quiz'. I also had everyone play phone charades which turned out to be really fun. All of this was listed on the programme so everyone knew what to expect. I also had speeches but we were out of time so oney had one which was lovely and heartwarming- thanks Angela!
I honestly had the best time being around my lovely friends! I'm usually wary of doing something on my actual birthday because people can tend to disappoint last minute and then to be getting such messages on your actual birthday can be a bit of a downer. Some of that happened but my good friend Kas had to remind me to focus on those who are there and have a great time and that is exactly what I did! Will I do an on the birthday celebration again? Probably. After all birthdays are not the be all and end all of friendships. It's all about being present on the day and having fun regardless.
Pictures of me alongside some of my friends. I told you that the phone charades game went down a treat!
Jumpsuit- Closet London, bought on ASOS
Make-up- Glam by Funmi  -shoutout to my sister for also being my personal photographer and running around and being amazing!
Cake- Lola's Cupcakes (was a 10 minute walk from the restaurant, so convenient!)
Sash- Smarty Pants
Foil Curtains- Amazon
Cake Topper- Amazon
Happy birthday bunting- Ebay
Balloon decorations (Confetti balloons etc)- Ebay
Figure Balloons- One from Card Factory, the other from a random shop in central. CF let me down with how quickly the balloon popped, unprovoked. 
Leeds
I haven't yet shared on here but I am currently a student again and I'm studying outside London which is a first for me! I was initially hesitant about doing something there because I'd only just started in October. I actually cancelled the original date and then after thinking about it again I decided to reschedule. I'm really glad I did it as it was great to just catch up with course mates and friends outside of the lecture hall. It also made me feel more at home in Leeds which I had not totally felt before then. I decided to go to Turtle Bay for their 2-4-1 cocktail hour and then I did bowling after. All in all it was a great night and I'm happy that I also made the most of my birthday sash.
And that's a wrap on my 25th birthday! I thoroughly enjoyed myself! And hey, if you're yet to send over a present it isn't too late :P ;)
*This post contains affiliate links which means that I receive a commission if you purchase the items that are linked.