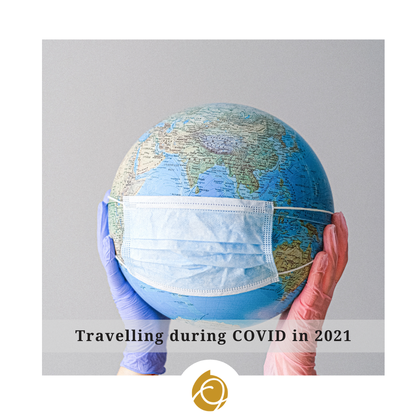 Please note that this post is about my own personal experiences and should be read as such. Whilst I will share what was required of me to do as per Nigeria's requirements note that travel requirements are constantly changing and as such please check the relevant government pages for up to date information. Red and Amber listed countries are regularly updated so it is important that you check before your travel. Different countries have different requirements and it is not a one size fits all policy.
On Thursday 20th May 2021 I travelled to Nigeria with my mum for my grandma's funeral. Pre-Covid times it would have been a straightforward journey from point A to B but alas, we are no more in pre-covid times. This means that although my departure date was 20th May, travel preparations started way before then.
Pre-Travel
The Nigerian government require visitors to take a PCR Covid test 72 hours prior to travelling. I chose assured screening who send test kits by post. It is no secret that Covid has increased the cost of travelling and so one should budget a good amount to cover such costs. At the time of my travel their PCR  Fit for travel test and certificate cost £89.
Yes, a normal covid PCR test won't cut it; it needs to be one that includes a fit to fly certificate which will show the results. The government has a list of providers so I would recommend that you pick a private test provider from the list . 
Also, NHS Covid tests are not accepted so don't even think of using them; it has to be a private test provider.
If you want a home kit order it in good time so that it arrives on time. I ordered mine a week before but only opened it and did the test on Monday 17th June. The good thing with assured screening was that it included a free return package which was 24hours tracked too. They advise that you post it in a local high priority post box ( google is your friend). I did that and posted it on the same Monday. They received the package on Tuesday and I got the result in the evening by email.
It is important to read the website for updates as if there is a bank holiday for example delivery could be slower and the like. 
Once I received the results I printed it out ready for my travels.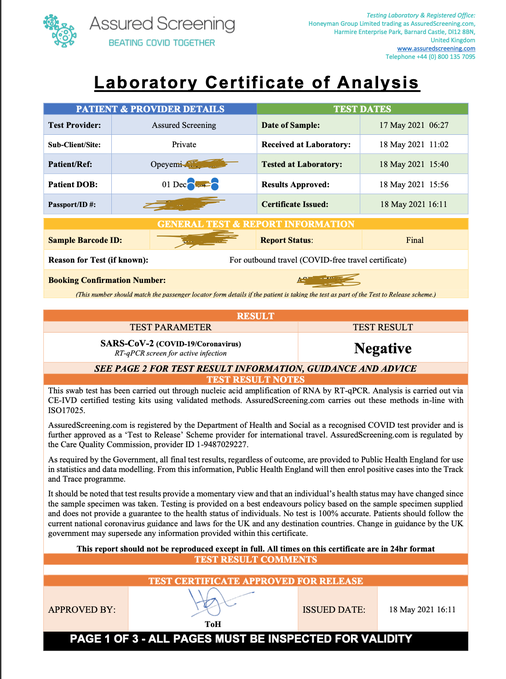 Nigeria Travel Portal
Visitors/ those entering Nigeria are required to stay in quarantine for 7 days in their cited accommodation that they put on the form (this does not have to be a hotel but can be a home too).The Nigerian government require visitors to input their flight details, contact details in Nigeria, upload the PCR test results and also pay for a day 7 repeat PCR Test in Nigeria from an approved government test centre which is listed on the website .
 All this must be done BEFORE you arrive in Nigeria as they will ask for proof of payment for the day 7 test.
Due to the funeral being in Ibadan I booked a test centre in Ibadan. All states are covered I believe with some states having more centres than others. When comparing prices, getting it in Ibadan was cheaper than Lagos but of course get it in the place that you will be on day 7. The Ibadan PCR test was around 39,500naira (I can't remember the exact figure but the £ equivalent was around £75). The payment portal takes all major cards and there is the option to use your Nigerian bank card if you have one. Otherwise, the payment is taken in dollars and I personally used my Starling account which is like Monzo but a different company.
It is really important to give them contact details that they can reach you on as I was called on day 6 to remind me to go to the centre. You also must go on on day 7. If you do not then there are consequences and your visa could be revoked or you will face a travel ban on your passport. You've been warned lol.
England requirements
As at the time I travelled, before you travel the UK government require you to fill a  travel declaration form. This is now no longer the case .
This is just one example of how information and requirements are constantly changing so please do read the latest requirements before you travel!
Travel
I did not take a direct flight to Lagos and my transit wait time was a few hours. Please do check the requirements needed if you will not be taking a direct flight as some countries do/may  require more even if you will only be there a few hours.
I kept all important documents such as
-Passport
-Negative PCR Covid test results
-Reason for my travel
Close to me so that I could easily show it to them. I must add that it is compulsory to wear a mask on the plane unless you are exempt for medical reasons.
In Nigeria
I went to the test centre in Ibadan on day 7 and thankfully the wait was not long. I had to fill an additional form on my phone once I arrived. I got the results within 48 hours via email and it was negative. If it was positive I would have had to stay in quarantine for longer however as it was negative I could leave quarantine which I was spending in a residential abode not hotel.
Pre departure for England
Nigeria
Due to UK requirements of having a PCR test taken 3 days before arriving in the UK, I took a test in Lagos. The cost was around 50,500 Naira. I went to the clinic and did the test there and got the results the same day via email.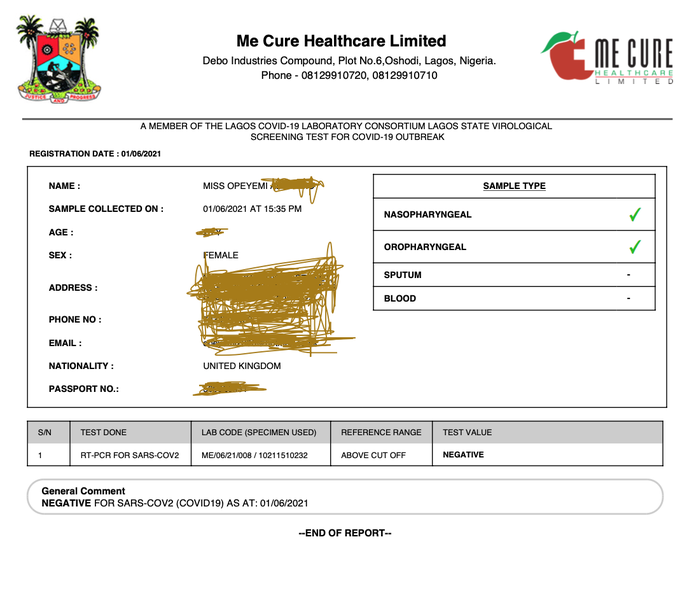 England requirements
The UK require visitors/ those entering the UK to fill out a passenger locator form BEFORE entering the UK.
In addition to that you must have a negative PCR Test taken 3 days before arriving in the UK and you must show this to travel authorities when travelling. 
Before entering the UK you must also book a day 2 and day 8 Covid test as you will be given a test ID that MUST be typed into the passenger locator form.
I personally booked day 2 & day 8 tests before I even left for Nigeria so I booked around 18th May 2021.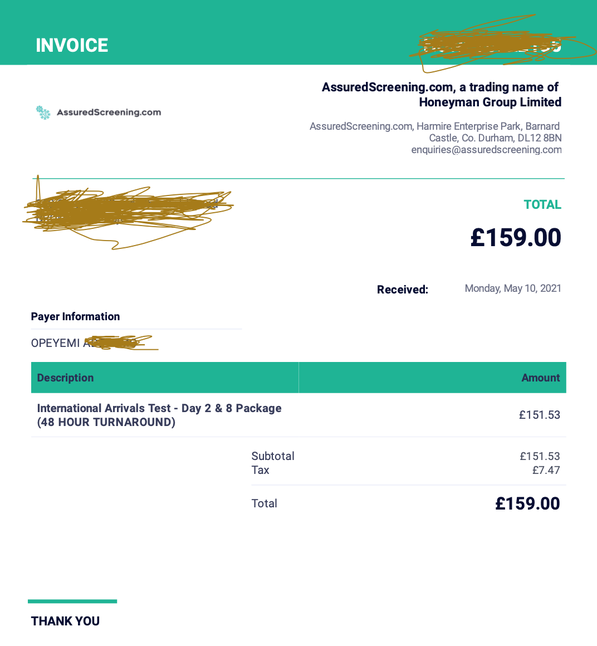 The passenger locator form can ONLY be filled 48 hours before arriving into the UK.
When travelling into the UK you are required to show and have on you :
-The printed negative PCR Test results
-Printed Invoice of Day 2 & Day 8 test ( proof that you have paid)
- Printed Passenger Locator Form
I stapled all of them together which airport officials appreciated as it made things easier.
Upon arrival in the UK you must quarantine for 10 days if you have gone to a country on the Amber list ( Nigeria is on it) in the accommodation you stated on the passenger locator form. It does not have to be a hotel; it can be a house/ residential abode.
The guidelines for travel from an Amber country can be found here
I used assured screening once again and decided to do home kits. The cost was £159 The test provider sends it to you on day 2 and day 8 based on the arrival date you give them.
P.S. I did not do the day 5 Test to Release Test which is an ADDITIONAL Cost. It is not compulsory to do. The test however allows you to leave quarantine earlier (from day 5) but please do read up on it more.
Arrival in England
Everyday in quarantine NHS Track and Trace called me and would also text. On one day they called me twice and I had to tell them that It is enough, politely.
I believe the test providers will also tell the government what the test results are on day 2 & day 8 but I also informed NHS track and trace.
Much like my pre arrival covid test, may day 2 & day 8 test were home kits as that was my preference.
Monday 14th June was my last day in quarantine.
P.S. If you are unable to work from home as your work requires you to be physically present then you can apply for £500 to help with finances. For more information please check here
So here you have it, travelling during a pandemic. I hope this helps in case you are travelling.