Sunday 24th June
After a long coach journey I have finally arrived in Ho Chi Minh. A point of advice is that it is far better to travel from Phnom Penh to Ho Chi Minh as it geographically makes more sense. We travelled from Siem Reap-> Phnom Penh-> Ho Chi Minh. Why? We were still deliberating on if we would spend more time in Cambodia in another city but apart from that don't make the same mistake that we did. The coach used travelling to Phnom Penh was great and the best coach I've been on. Leg room for days and a reclining chair that actually did its job. Wifi was hit and miss but I guess we can't have it all. The second coach however left much to be desired, or rather after having been on such a lovely coach it just felt terrible but I am exaggerating a tad bit. It basically was a functional coach that took us from A to B- no frills and fancies but it is what it is. The coach company was Mekong Express. They do provide snacks on the way which is included in the ticket price but of course bring your own abundance of snacks. Also, there are no toilets on board but toilet breaks are provided and of course the standard coach stops where you can get food or buy anything else you need.
Upon arriving at Ho Chi Minh and the area we were staying first impressions were that I am right in the heart of The night life which is funny as I'm not a night life person. Our hotel, Duc Vuong was on one of the main roads or 'the strip' where loads of restaurants and clubs were situated. The road is open to vehicles during the day but at night? Closed and open only to pedestrians so they can really enjoy the night life.
Luckily for us our room was at the back so it was not noisy and I was able to get a good nights sleep for our duration there.
Ho Chi Minh City is also known as Saigon and that in itself is quite political and can be a sensitive matter. The former is the name of the late former president of Vietnam whilst the latter is the original name of the city.There is quite a bit of history behind it all and I will touch up on it more when I talk about my time in Hanoi. I believe it is common knowledge but Vietnam were at war with the US and whilst it is a major part of their History, there is so much more the Vietnam than just the war and I am happy that I was able to get a feel for their culture whilst I was in the country.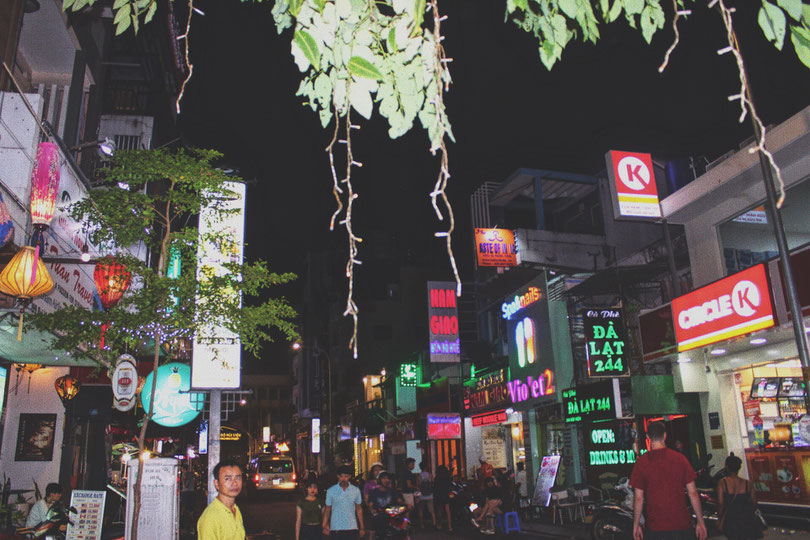 Outside our hotel, right in the heart of the strip
Monday 25th June
Today was good. We booked a tour to the Cu Chi Tunnels which was about an hour and a half away by car. 
Our tour guide was eccentric to say the least but he was very knowledgeable on all things Vietnam. It was quite interesting to see how innovative the Vietnamese army was with the way they made traps and how the tunnels were constructed. Towards the end of the trip there was also the opportunity to enter the actual tunnels. I only entered one as it was quite claustrophobic. Let's just say that those tunnels were no joke and the people meant business when they built those tunnels as they are certainly not for the fainthearted.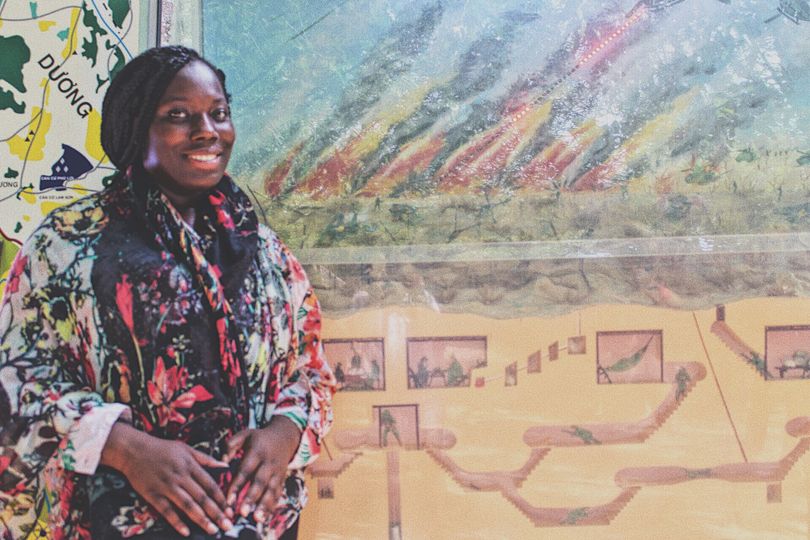 The diagram behind me shows the underground tunnel networks at Cu Chi Tunnels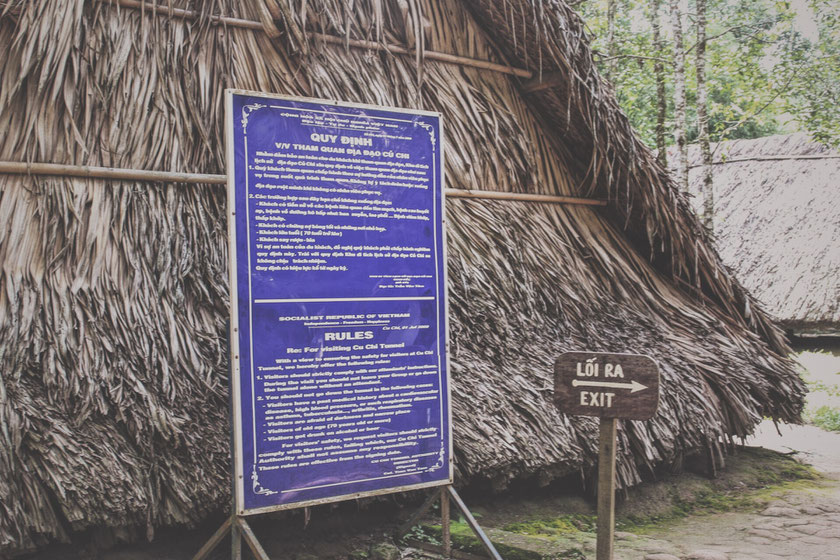 Afterwards we went out to eat at a local restaurant.There were slim seafood options or maybe I was over having seafood fried rice at that point in time. Who knows? Anyways, I ordered a Vietnamese delicacy of braised fish in pepper sauce and I must say that it was lovely. Really flavourful and wholesome. It was served with a decent portion of steamed rice. It was fine and served me well for my late lunch/ early dinner food.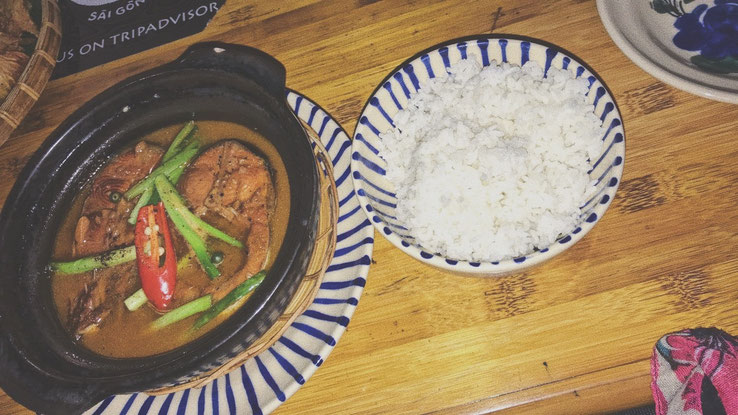 At night we decided to check out the rooftop bar that the hotel is well known for and in fact it has a name of its own, 'The View Rooftop bar'. I ordered a virgin pina colada which was disappointing as it erred more on the pineapple side than coconut which I very much prefer. The ambience made up for this shortcoming and it was a really lovely atmosphere to just chill and talk with friends.
Tuesday 26th June
We booked a half day city tour at our hotel and we got the same tour guide as the day before which made for a nice amount of continuity. I admittedly was not too keen on the package as there were only a few places of interest that I wanted to check out but overall I'm glad I still did it anyway.
Our first stop was the Jade Pagoda, where we were informed of the Chinese origin of the place and it's importance as a place of worship.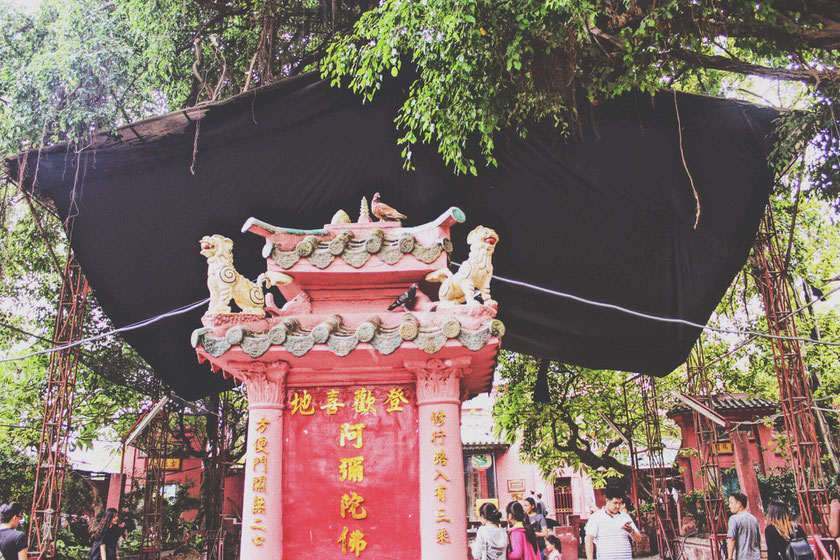 Outside the Jade Pagoda
Next, we went to the War remnants museum which was harrowing especially as you could still see the present-day effects of the war. It really made me think why wars ever have to occur and why innocent civilians bear the brunt of it all. I was forced to think of so many things and it was another confirmation that the west had done dangerous things in the past that could have simply been avoided if everyone focused on their own country.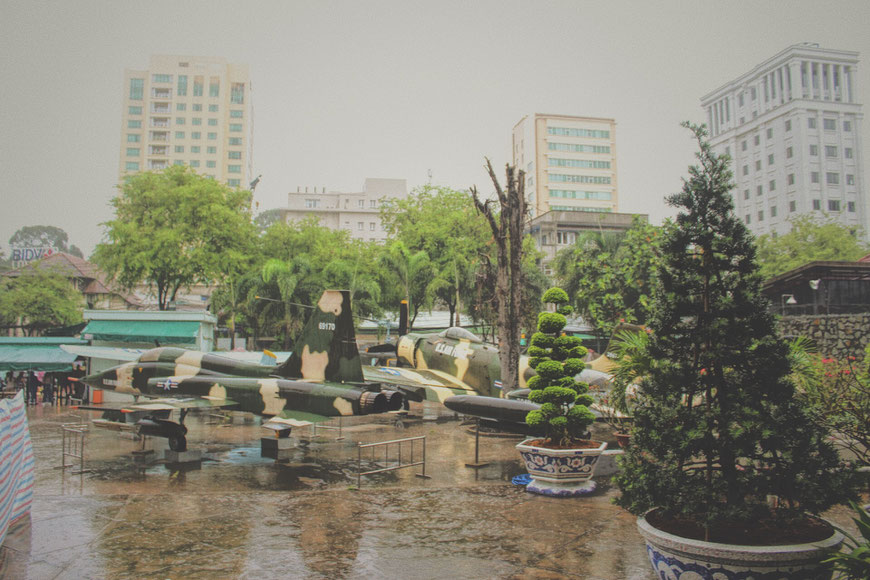 Outside the War remnants museum,. Rainy days.
Afterwards we went to the independence palace also known as the Reunification building which was nice to walk around and envisage how active it was in its heyday. Quite a lot of history is attached to the place which also makes it a worthwhile visit, albeit not a must. The original palace was destroyed so the present day building was built in the exact same spot and whilst it is not an active palace, it serves as a reminder of history and also as a tourist point of interest for people like me, lol. Inside the palace are quite a number of rooms and it is worth reading the information posts in each one as it provides some insight into how the royal family was back then and also how the building was also used for politics too.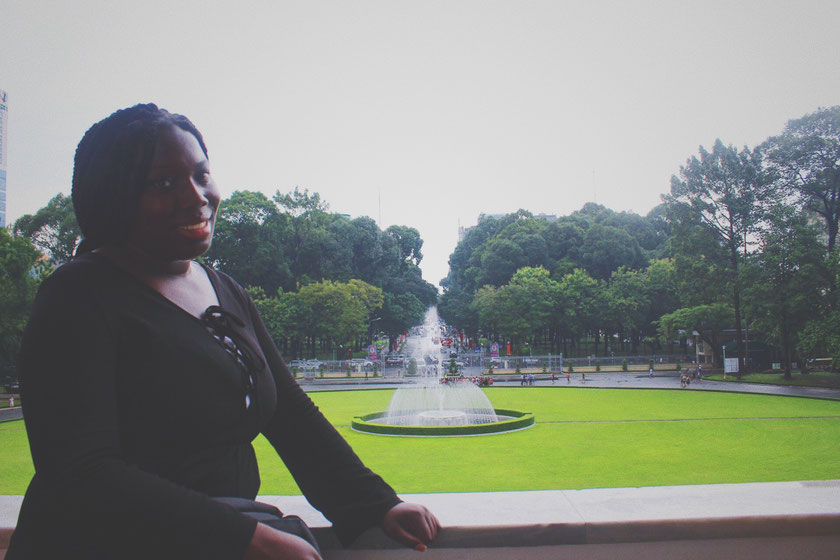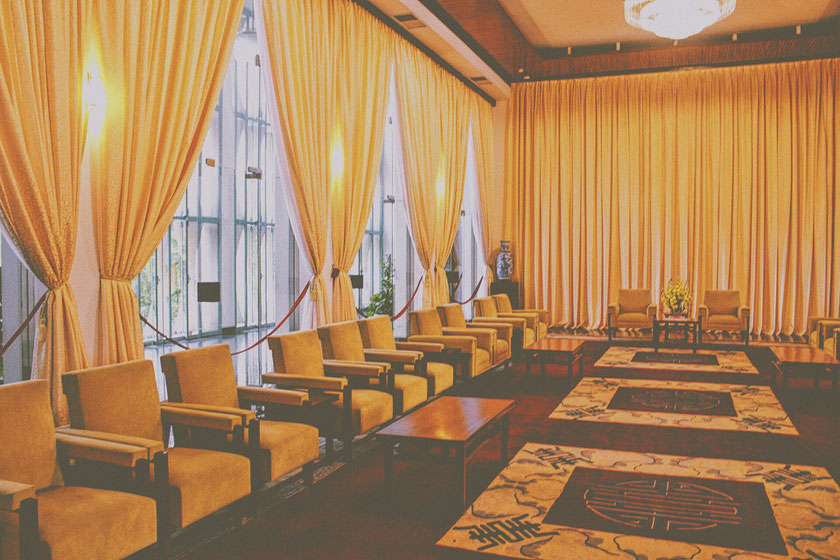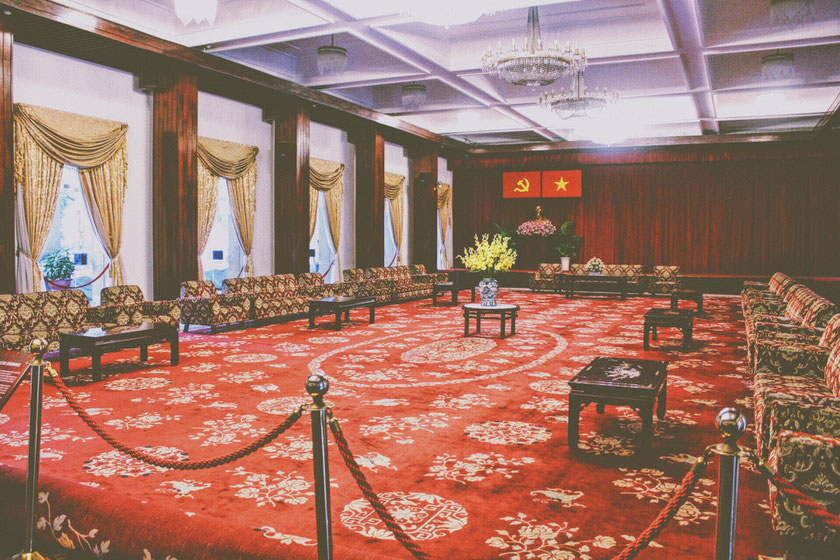 The next place we checked was the Central post office which was exactly that- a post office. It was built during the time that the French colonised Vietnam. The architecture is lovely and definitely points to that era and of course I could not resist taking a picture outside. As any other post offices do they do receive and post letters and also sell the standard post office items that you would expect.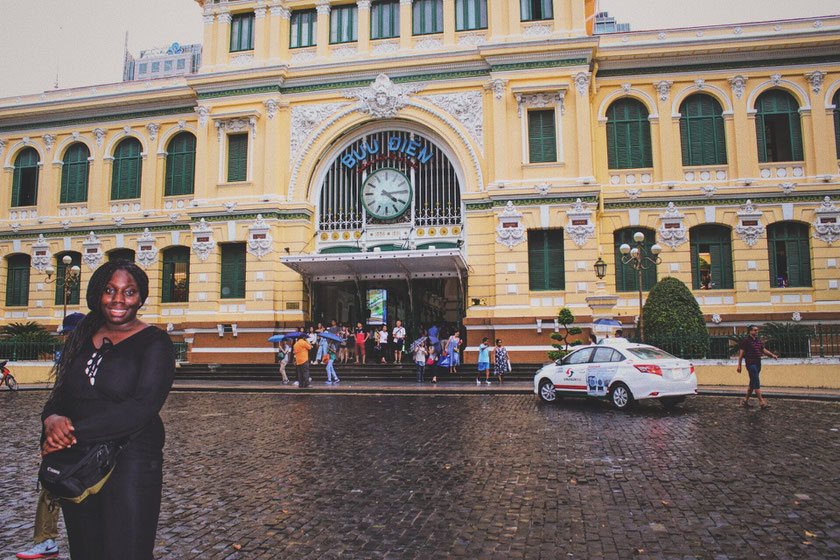 I was actually really tired, it was a long day and no I was not photoshopped into the picture. lol.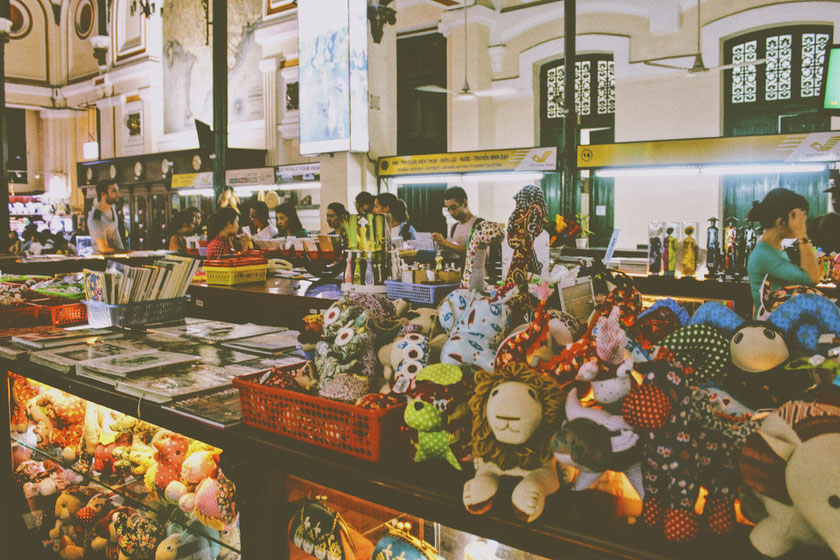 Inside the Central Post Office
 Opposite it the Saigon Notre Dame cathedral loomed tall but unfortunately it was closed due to renovations so that was the end of that. Still, it did not stop me from taking pictures of the building or trying to as most of it was practically covered.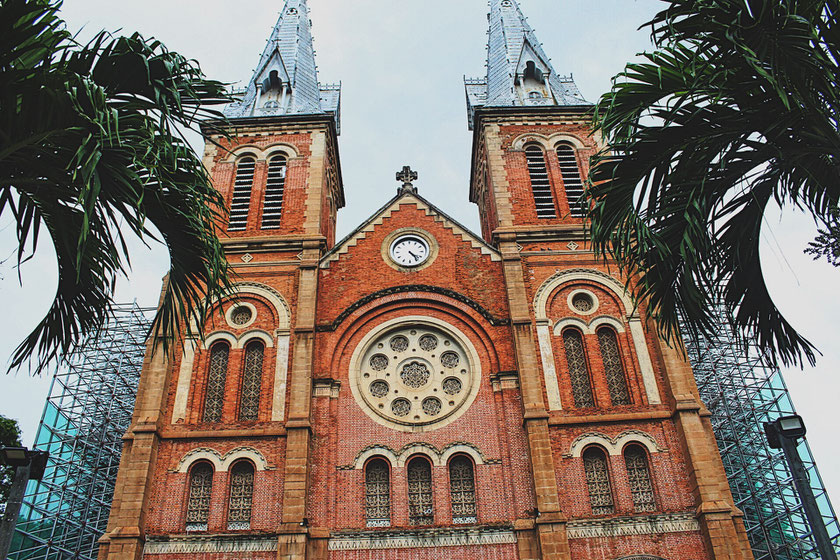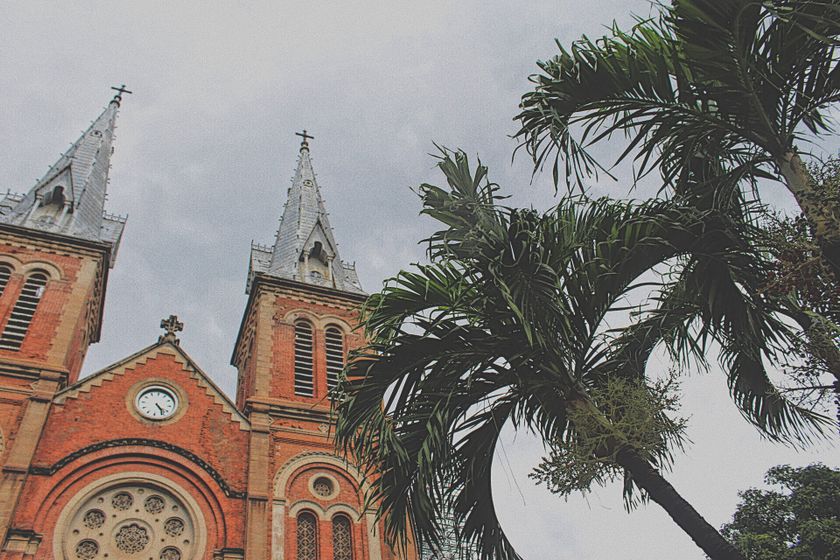 Our last stop was the Banh Minh Market which was great as I was able to get all my souvenirs.
On the day that we were to leave for our next destination, we decided to grab a bite at EON51, a restaurant in the tallest tower in Ho Chi Minh City. The building itself is known as the Bitexco Financial Tower which has offices and also retail stores too, much like the Shard in some ways.
 All in all it was a really good day and helped me to see some of what Ho Chi Minh City had to offer before heading off to our next destination, Nha Trang via train.
P.S. Next week I will be talking about my time in Nha Trang